67mm UV Lens Filter - HD MCUV Scratch-Resistant Ultraviolet Protection Filters
&FREE Shipping to Australia
K&F 67mm UV Filter for Camera Lenses,28-Layer Multi Coated UVHD GLASS High Density Sharp Cut UV Glass Chemically Enhanced Optical Glass is 11x Stronger

KF01.968

SKU:

KF01.968

30.99

https://au.kentfaith.com/KF01.968_67mm-nano-x-uv-filter-18-layer-multi-coated
Features
* 【Function】UV filter has two functions , one is to obsorbed UV ray and weaken blue tone in images caused by UV, ensuring the clarity and color. Another is to protect the lens away from dusty and scratches.
* 【Import Optical Glass】K&F Concept UV filter made by import Japanese AGC glass for razor sharp images while maintaining the true color of photos.
* 【NANOTEC】This UV filter with 28 multi-layer coatings, hydrophobic,scratch resistant . The 99.6% transmission, effectively reducing the reflection came from both the ground and filter itself, ensuring the true color of images.
* 【Telephotos Lens No Vignetting】K&F Concept HD uv filter frame only 3.3mm with double side polishing technology no vignetting and the images still clarity even on telephotos lens.
* 【Note】Please verify your camera's lens thread size before ordering. Your camera's lens thread size will be marked somewhere on the lens barrel or printed underneath your lens cap. This number is always proceeded by a "Φ" (diameter) symbol. For example: Φ67 = 67mm lens thread size.
Shipping
&FREE Shipping to Australia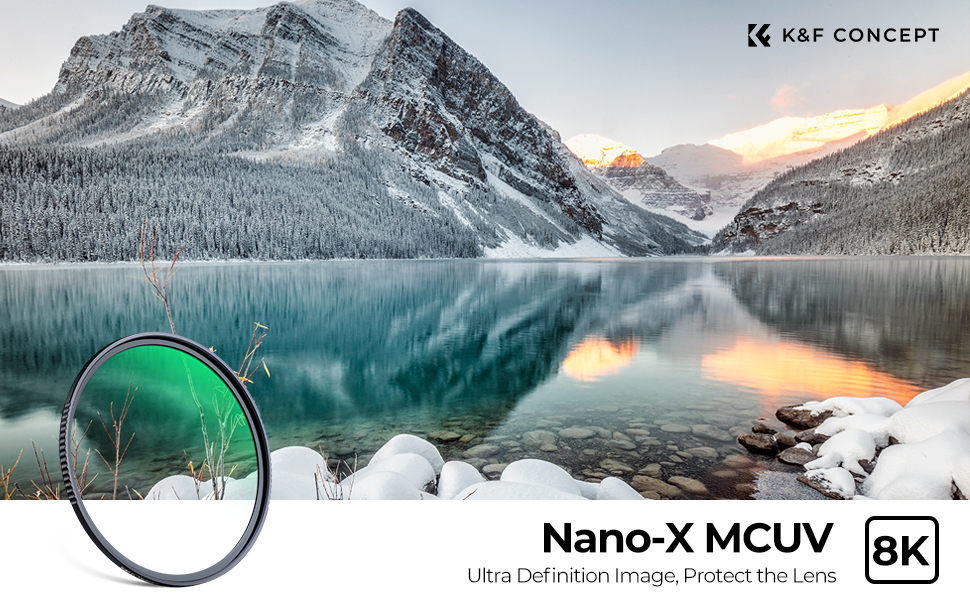 K&F Concept MCUV Filter High Definition/Hydrophobic/ Scratch Resistant with 28-Multi-layer Coatings UV Filter for Camera Lens
The main function of the K&F MCUV filter is to prevent the harmful effect of UV rays and eliminates atmospheric haze that causes a bluish cast and makes distant subjects such as mountains in scenic photos less sharp. By using our UV filters you will be eliminating this and your pictures will be so much sharper and color accurate.
---
Please reconfirm your lens size before ordering, your camera's lens thread size will be marked somewhere on the lens barrel. This number is always preceded by a "Ø" (diameter) symbol. Eg. Ø58=58mm thread size.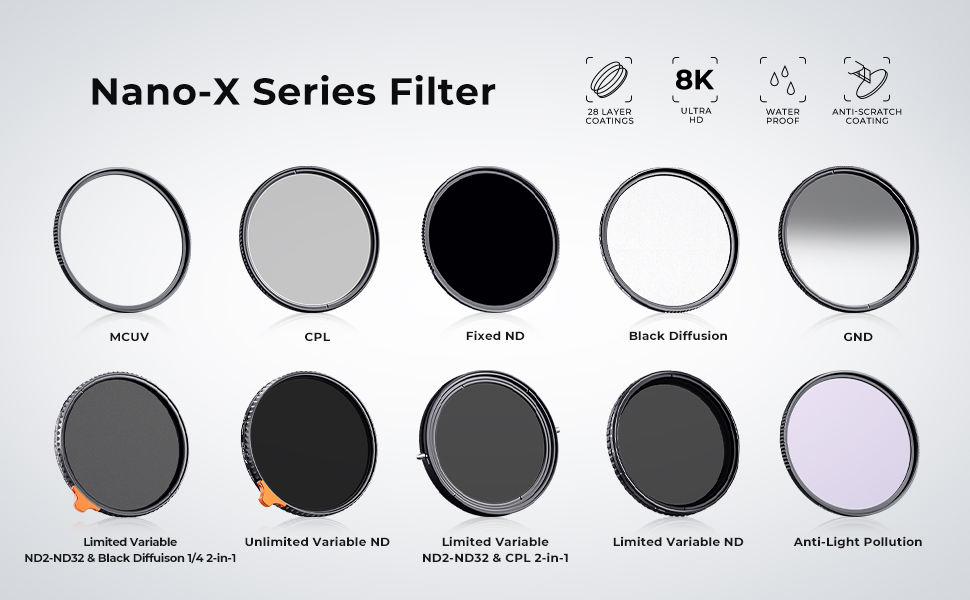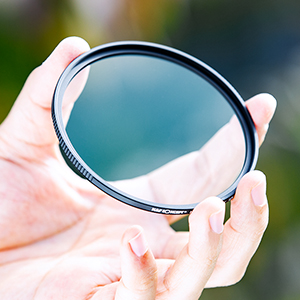 CNC Non-Slip Design
Super slim filter frame only 3.3mm with CNC non-slip design supporting easily to installation and removal.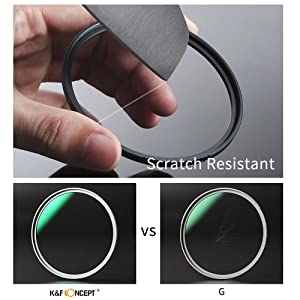 Import AGC Optical Glass
This UV filter is made by importing Japanese AGC optical glass, 99.6% transmission, HD, hydrophobic and scratch-resistant, restoring true color in photos.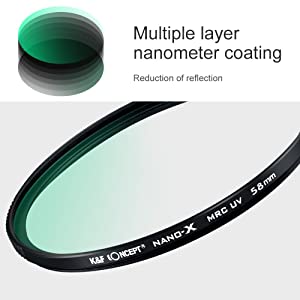 Multi-layer Coatings
The KF UV filter with 28-layer coatings increases the Anti-reflection, also reducing the reflection coming from the ground and filter itself, improving light transmission and balancing the color well.


Rating

23 reviews.

2 reviews.

15 reviews.

39 reviews.

41 reviews.

81 reviews.
Price

A$50.99

A$30.99

A$74.99

A$70.99

A$49.19

A$40.99

A$85.19

A$35.99

A$88.99

A$68.99

A$87.59

A$72.99

Model
KF01.968
SKU.1663
KF01.972
KF01.976
KF01.1481
KF01.1061

size

67mm
67mm
67mm
67mm
67mm

Filter Material

Japanese AGC Glass
Japanese AGC Glass
Japanese AGC Glass
Japanese AGC Glass
Japanese AGC Glass
Japanese AGC Glass

Multi-Coating

28
28
28
28
28
28

waterproof

√
√
√
√
√
√

scratch-resistant

√
√
√
√
√
√

HD

√
√
√
√
√
√

Transmittance

0.995
∕
0.001
0.84
∕

Antireflection

√
√
√
√
√

Filter Thickness

3.3mm
5.5mm
3.3mm
0.13in/3.3mm
7.3mm

Shape

Circle
Circle
Circle
Circular
Circle

Ring Material

Aviation aluminum alloy
Aviation aluminum alloy
Aviation aluminum alloy
Aviation aluminum alloy
Aviation aluminum alloy

Screen

Nano-X series
Nano-X series
Nano-X series
Nano-X series
Nano-X series
Nano-X series

zoom range

All Scenes
All Scenes
Landscape photography
Landscape Photography
Video Shooting/Potrait Photography
Video Shooting/Landscape Photography

Resolution

Protect Lens/Obsord UV Ray
Protect Lens/Remove Glare/Enhance Color & Contrast
Eliminate stray light/ Color contrast enhancement
Light reduction effect
Soft highlight
No X cross/Light reduction effect
Actually improves the Sigma 150-600 E-Mount!
I am usually against UV/haze filters as I am concerned about their effect on image quality. However, I plan to use my Sigma 150-600 DG DN Sport (Sony E-Mount) in pretty harsh conditions such as coastal bird photography, surf photography, and sports. So, I caved and purchased this filter to provide protection for the lens front element.However, given that this K&F filter would probably be considered "mid-tier" in terms of price, I wanted to test if it in fact had any effect on image quality. The attached image of a $20 dollar bill was taken under the same exact circumstances - 600mm at ISO 100, tripod with OS off. As you can see from the screenshot taken in the compare view of my photo editing software, the image on the right (with filter) is clearly sharper with better contrast.I'm shocked! I had fully expected to remove the filter when I wanted a better image. Now I can leave it on 100% of the time, and easily wipe off any splashes or dust without worrying about scratching the front element. Strong recommend!
08/07/2021
Nice touches
Just got a new lens, needed a 77mm filter to protect it. I'm not going to sit and tell you this glass is better than some other glass. I just got it, and I'm not an optics expert.But, I will tell you the packaging was beautiful, the filter case- one of the nicest I've ever seen. It is circular- and holds multiple size filters with grooves in an internal bracket. So much nicer than the big clunky square filter boxes I've got from other brands.But- the killer was the filter being so thin- and that it has 2 areas that are gnarled, for you to grab it- while the rest is smooth- a really nice feature.Seems right at home on my Canon RF24-105/4 L IS USM.Didn't notice any difference in speed of focus- or aberration- but, again- I'm not a lab.I'm pretty happy with this brand. Didn't expect to be.
23/07/2021
Allows for sharp image...
nothing fancy about UV filters, you just don't want them to effect your shots, K&F's does a great job with their glass filters. When you invest 100s of dollars for a lens you want something to protect it without distorting and K&F filter do that.
10/09/2021
Fits Sigma 150-600mm perfectly
Both lenses are Sigma lenses with 2 different brands of UV filters on them. The lens on the left is my 150-500mm with a filter made by another brand. The right is my 150-600mm lens with the K&F filter. The lens on the left looks a little hazy, while the K&F filter does not.Does not decrease image quality that I can tell. You can feel that it is weather sealed, but I'm not testing it to see if it truly is.Comes in a plastic caseSo far, no complaints.
17/07/2021
K&F - Always the best value
Great quality and always fairly priced.
05/11/2021
There are no faqs for this product.
K&F XU05 37mm UV Filter 18-Layer Multi Coated Nanotech Coatings
Do You Know How Your K&F Concept Filters be Produced?
Filter
size
67mm
Filter Material
Japanese AGC Glass
Multi-Coating
28
waterproof
√
scratch-resistant
√
HD
√
Transmittance
0.995
Antireflection
√
Pattern
√
Filter Thickness
3.3mm
Shape
Circle
Ring Material
Aviation aluminum alloy
Microscope
Screen
Nano-X series
zoom range
All Scenes
Resolution
Protect Lens/Obsord UV Ray