Nikon F Lenses to Canon EOS R Lens Mount Adapter K&F Concept M11194 Lens Adapter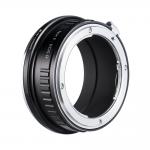 I had recently committed to a Canon R6 and was left with the question of what to do with my beloved Nikon 50mm f/1.4 AIS. As a happy accident it arrived within the hour my R6 had arrived and I put it work. The unit itself mounts securely, and the faces are machined true. Within minutes of mounting I'm achieving focus accuracy that I've never observed out of this lens.
A criticism and a concern. The criticism lays with the operations manual. On the R6 you have to enable the camera to take photos with the lens off as this adapter doesn't electronically interface with the camera. I wish this was written somewhere with the adapter. The concern is the weather sealing or more accurately the lack there of so this may be watch out for. Either way I'm quite pleased with the results of this adapter and I'd buy this again.

1) In use adapting the Nikon 50mm f/1.4 AIS on the R6
2) Inside of the adapter
3) A sample photo from the combination.
4) Menu section to get this adapter to work.
26/02/2022