77mm Ultra Slim Variable ND Filter Adjustable ND2-ND400 with Lens Cleaning Cloth
To
Australia
Expedited Free Shipping
3-5
business days
K&F Concept 77mm ND2-400 Slim Variable ND Neutral Density Filter Adjustable Fader ND2 ND4 ND8 ND16 to ND400 Lens Filter + Microfiber Cleaning Cloth for DSLR Cameras(1 Peak)

SKU0129

SKU:

SKU0129

37.99

https://au.kentfaith.com/SKU0129_77mm-nd2-to-nd400-variable-neutral-density-nd-filter
Features
* 【ND Filter+Cleaning cloth】K&F Concept 77MM Adjustable Neutral Density Professional Photography Filter ND2~400 + Professional Microfiber Lens Cleaning Cloth
* 【High Grade Glass & Microfiber 】Variable ND Filter: Made by Completed Professional Optical Glasses instead of Optical Resin. Microfiber: This Professional Microfiber made by Japanese Raw Material, very soft and easy to cleaning lens, filters,glasses and mobile etc.
* 【Variable light reduction】Premium Japanese optical glass with nano-coating provides neutral colour balance, reduces lens flare, removes ghosting and better protection against scratches, dirt, and grime.
* 【Professional Design】Using Super Slim Original Design to Avoid Vignetting When You Taking Photo
* 【NOTE】This Filter kit is compatible with all 77mm lenses. Please verify your camera's lens thread size before ordering. Your camera's lens thread size will be marked somewhere on the lens barrel or printed underneath your lens cap. This number is always preceded by a "ø" (diameter) symbol.
Shipping
To
Australia
Expedited Free Shipping
3-5
business days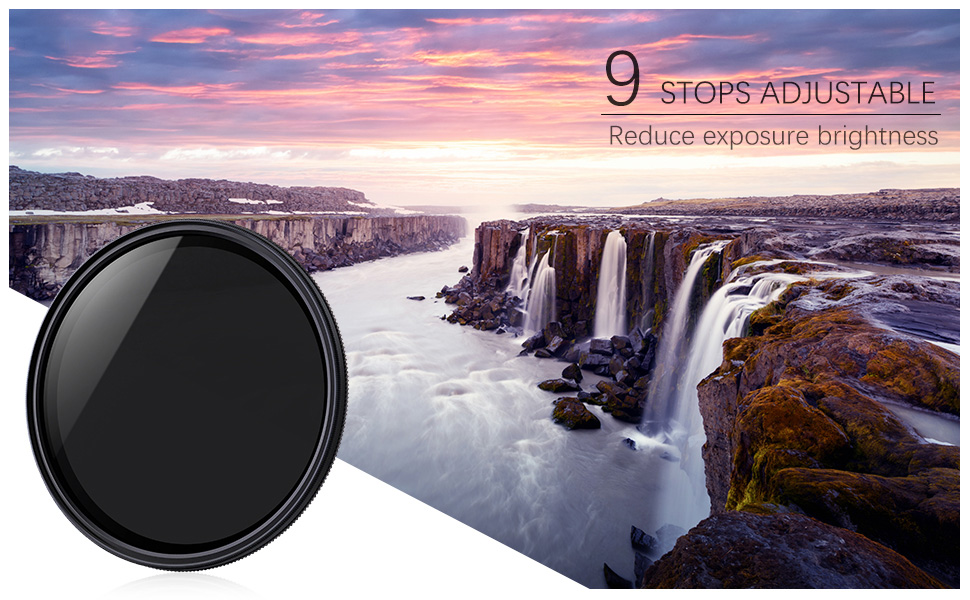 K&F Concept Variable ND2-400 Filter + Cleaning Cloth
Tips:
---
Please DOUBLE confirm your lens size before purchase via checking your lens thread size instead of camera model name,Your camera's lens thread size will be marked somewhere on the lens barrel. This number is always preceded by a "Ø" (diameter) symbol. Eg. Ø55mm=55mm thread size; some buyers only check their camera model instead of lens model, which may purchase wrong size
Explanation of "X" cross issues: "X" cross on images is a common issue with wide angle lenses and variable ND filters. Physics limit the capabilities of variable ND filters on wide angle lenses. When you enter the edge of the max range,the "X" issue may appear on your image.due to the particular angle of the two polarizers when approaching max density
Color Shift The color of the image may vary between warm and cold. This is a common phenomenon of all variable ND filters. You need to adjust your white balance accordingly when set the ND filter to different ranges
When to use Auto (AWB) or Custom White Balance If you have mixed light sources, such as tungsten light inside and some daylight from a window,then select AWB (auto white balance) and it will do a pretty good job of balancing them. You can also choose to set a custom balance. The short description of how to do that is: take a photo of something neutral (a white paper or a grey card) and tell the camera "use this as neutral" using the custom White Balance settings. Each camera is different, once again you'll need to consult your manual on how to do custom white balance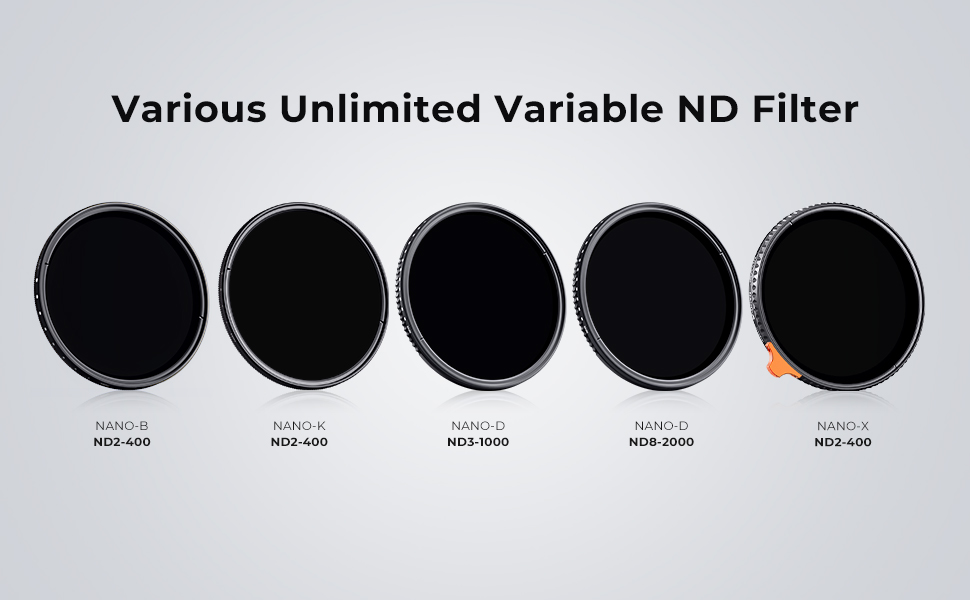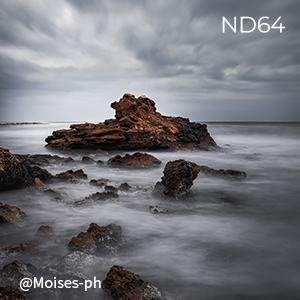 Buyer Image with Our Filter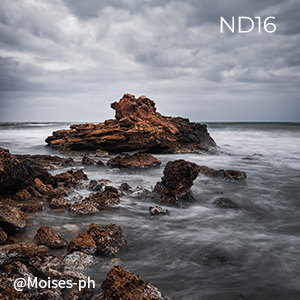 Variable ND & CPL Function 2-in-1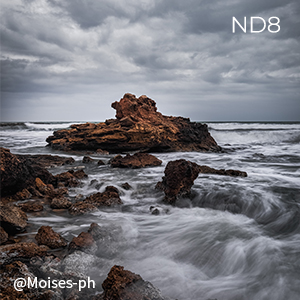 No "X" Cross on Images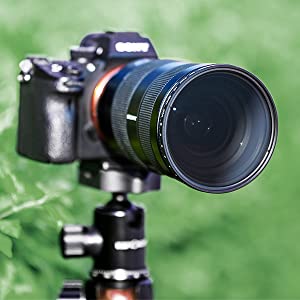 HD Optical glass
Neutral density can be adjusted from ND2 to ND400, Reduces the amount of light reaching the film without affecting the color.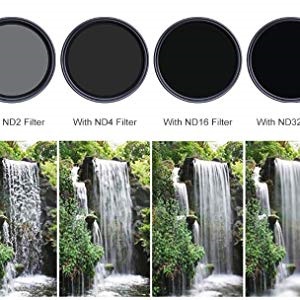 Extend exposure time
Try an ND, or neutral density, filter. ND filters reduce the amount of light entering the lens. This makes it easier to achieve effects such as a shallower depth of field or blurred motion. Create spectacular images of the ocean washing over rocks, waterfalls, rivers, surfers flying across the waves.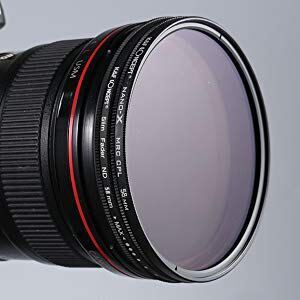 Double Threaded
For this series, front thread diameter is bigger than the back thread diameter:
---
For example:
---
Back thread diameter (attach to lens): 67mm
Front thread diameter (attach additional filter/other accessories): 72mm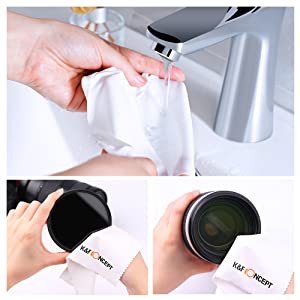 Microfiber Cleaning Cloth
Ideal for cleaning oil, fingerprints, smudges, and dirt off eyeglasses, laptops, tablets of all brands, smart phones, and any other LCD or touch screen.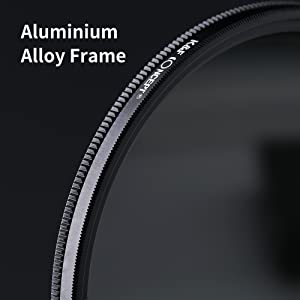 Slim Frame
Using Super Slim Original Design to Avoid Vignetting When You Taking Photo
Wider outer optic to help reduce vignetting at wide angles.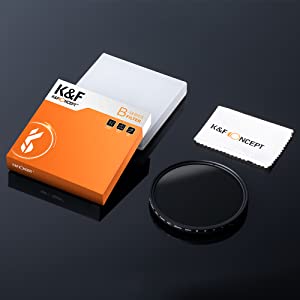 What's in Box
1* Variable ND Filter
1* Carrying Box( black and yellow box is sent randomly, with the same filter)
1* Cleaning Cloth
---
Any query will be replied within 24 hours

| | | | | | | |
| --- | --- | --- | --- | --- | --- | --- |
| | | | | | | |
| | | | | | | |
| | | | | | | |
| Rating | 108 reviews. | 26 reviews. | 32 reviews. | 0 reviews. | 6 reviews. | 117 reviews. |
| Price | A$37.99 | A$44.99 | A$102.99 | A$67.99 | A$64.99 | A$80.99 |
| Model | SKU0129 | KF01.1392 | KF01.1465 | KF01.1837 | KF01.1273 | KF01.1063 |
| size | 77mm | 77mm | | | 77mm | 77mm |
Great deal for the price!
This is a very good deal, especially for the price. It works really well, easy to use, and the case that it comes in fits well in my camera bag.
24/12/2019
Very good for the money ! Don't waste money on more expensive ND filters.
I like everything about it ! Those people giving it less than 4 stars, don't understand photography !
01/10/2018
Good For Smoothing Water
I like it for it's water smoothing capabilities. It's built well, screws on easily and the settings are clear and easy to distinguish. as others have mentioned you get some vignetting and dirty pics depending on how you have it set and what light is available. I'll keep it in the bag in case I need it for any special pics involving water smoothing. I should say I have a 10 stop fixed for another lens from them and it seemed to perform better, maybe because it wasn't variable??? I can't say for sure, just taking a guess as to why.
09/05/2020
Great value for money
For the price, its great value. It does what it says on the tin and I haven't spotted any great colour shifts yet.
20/01/2022
Well worth the price..
This item is worth buying for the price, I tried it out and it seems to be working fine.
16/01/2022
Well worth the price..
This item is worth buying for the price, I tried it out and it seems to be working fine.
16/01/2022
Great for the price
great
28/01/2021
Good Enough
As someone just taking interest in long exposure I bought this with limited expectations. It seems like a solid filter for a low price. There's vignetting at the darker end that may not happen with a fixed stop or a better filter but this was affordable and seems to work well. I think the alignment of the threads matters a lot. I had dark lines intruding into the shot but re-seated the filter and they were gone. The variable stop is nice if you're starting out and don't want to drop a lot of money or carry many filters on you.
12/01/2021
Darkness falls
The K&F Concept 77mm Ultra Slim ND2-ND400 Fader appears well made especially given its modest price. The threads fit well when placed on the lens, and the filter does not rattle. Rotating the filter allows an image to become darker with the goal of using wider apertures in bright sunlight.
30/12/2020
Amazing !!
Amazing Quality .. Brought An Old Lens Back To Life ...
14/12/2020
These images belong to K&F Concept end users.
ND2 to ND400 Variable Neutral Density ND Filter
Do You Know How Your K&F Concept Filters be Produced?
K&F Concept MCUV Protection Filter Nano K Series
Filter
size
77mm
Filter Material
Japanese AGC Glass
Multi-Coating
8
waterproof
/
scratch-resistant
/
HD
/
Transmittance
∕
Antireflection
Pattern
Filter Thickness
7.0mm
Shape
Circle
Ring Material
Aviation aluminum alloy
Microscope
Screen
Nano-B series
zoom range
Video Shooting/Landscape Photography
Resolution
Light reduction effect
light source
0.3 to 2.7(1 to 9 Stops)