Solar Powered 1080P Wireless Outdoor IP Security Camera with Listen-in Audio and Color Night Vision - White
A$170.98
A$409.98
58% OFF
&FREE Shipping to Australia
Brand:

K&F Concept

Free Shipping. 30 Day No Reason Return. K&F Concept Solar Powered Wireless Outdoor IP Security Camera features 1080P HD Video Resolution, Audible & Visual Alarm, Color Night Vision, 14400mAh Battery, Solar Powered.

KF50.0001

SKU:

KF50.0001

170.98

https://au.kentfaith.com/KF50.0001_solar-powered-1080p-wireless-outdoor-ip-security-camera-with-listen-in-audio-and-color-night-vision---pure-white
Features
* 【360° Wide Angle & Two-Way Audio】K&F Concept surveillance camera's smart design enables it to rotate without obstacles, horizontally rotated 355°, vertical 120°, can achieve a wide panoramic field of vision, monitoring without blind spots, no dead angle panoramic shooting. Offer a full protection for your sweet home.
* 【Smart PIR Motion Detection & Audio-Light Alert】The smart home security camera is equipped with a smart PIR motion detection chip. No false alarm. With stronger AI algorithm, the home security camera has higher sensitivity PIR motion sensor, optional setting of 5-10 meters to capturing all human movements, significantly reducing false alarms caused by rain and insects, etc. Enhanced protection of your property and sends timely and accurate alerts.
* 【Infrared Full-color Night Vision & IP66 Waterproof】The camera can automatically recognize day and night for mode switching. It adopts advanced night vision technology. Under very dark light conditions, it can present clear images through the dark. The security outdoor camera is equipped with an ip66 rated weatherproof outer casing, designed to operate the CCTV camera even in extreme weather conditions.
* 【Data Storage & After-sales Service】Use a Micro SD card (128G Max) to save local recordings, you can use APP to view historical recordings without paying any additional fees (SD Card NOT include). If you need longer data storage, you can also subscribe to a securely encrypted cloud Storage service, and can enjoy 7 days free storage discount. Please feel free to contact us if you encounter any problems.
* 【14400mAh Rechargeable Battery & 100% Wire Free】This solar-powered wireless security camera built-in 14400mAh batteries. Besides, The solar panel can provide non-stop solar power for the outdoor security camera day or night, sunny or rainy., the security camera features an extremely long standby time of up to 6 months. The surveillance camera runs on 2.4 GHz WiFi and stays fully-charged with Solar Panel which realize 100% wire-free security. 100% wire-free. Low battery notification and indicator on the solar security camera.
Wireless battery secutity camera with solar panel
Built-in 14400mAh high-capacity battery, solar panel continuously replenishes power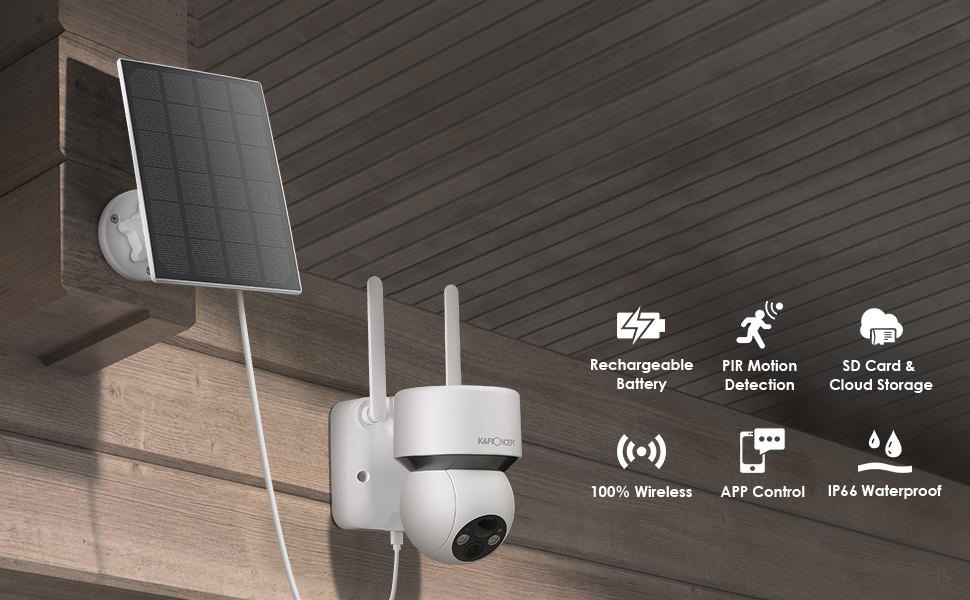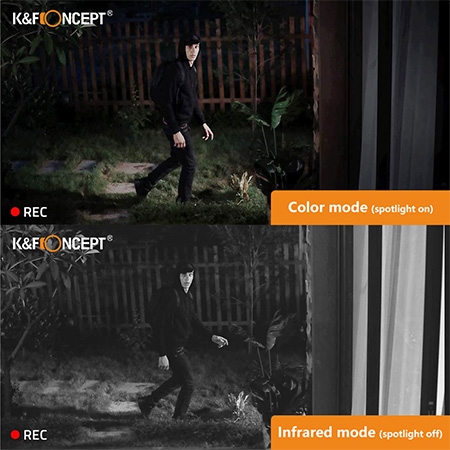 Smart Color Night Vision
The home security camera with 2 LED lights and HD lens enables sharp colorful night vision up to 33 feet in dark.Secure your family and property even in the dark always.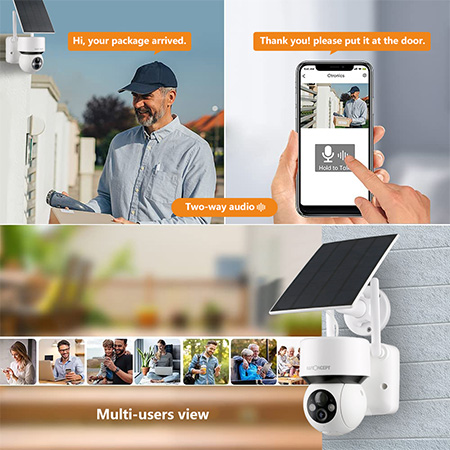 Two-way conversation and sharing
The K&F solar camera has built-in high-quality speakers and microphones. Even if you are not at home, you can communicate with people in the surveillance area and share with others.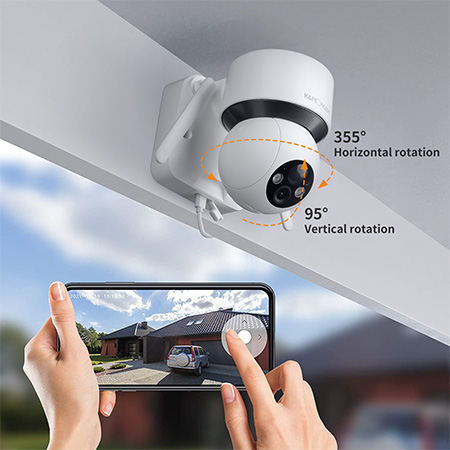 Horizontal and vertical rotation
Support remote control of the camera rotation through the PTZ function on the APP. You can move the camera left and right/up and down.(Rotate 355° horizontally and 95° vertically.)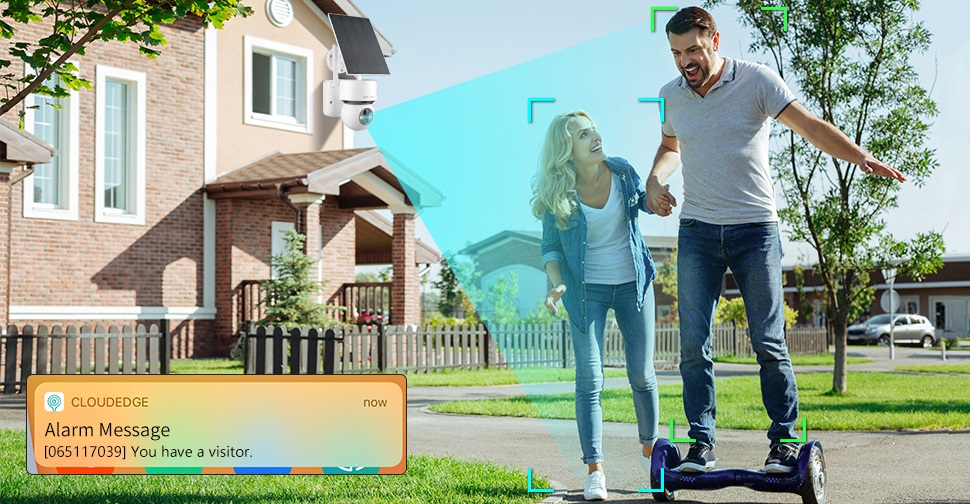 Alarm Detection
This PTZ battery-powered security camera uses a high-sensitivity PIR motion senso to reduce false alarms, wakes up quickly in 0.2 seconds and stably captures all human movements, significantly reducing false alarms caused by rain and insects. An excellent choice for home protection.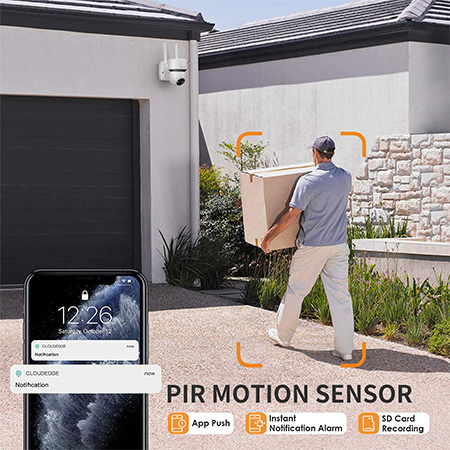 PIR motion detection
Outdoor solar cameras equipped with higher sensitivity PIR sensors can accurately capture human movement and reduce false alarms caused by bugs and leaves.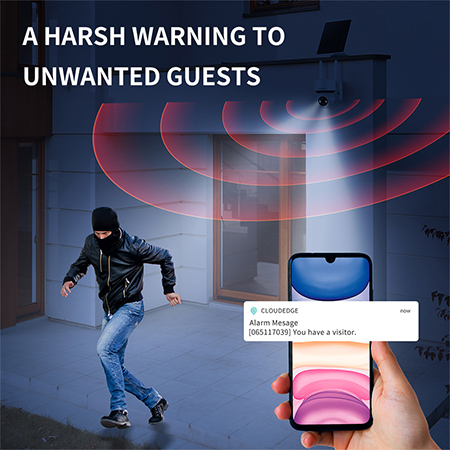 Sound-Light Alarm
With the help of AI algorithms, the camera can recognize movement faster, distinguish between people, cars, and pets, and push alarm information.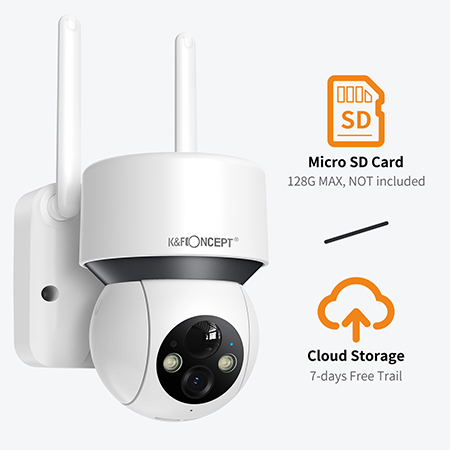 Cloud and SD Card Storage
The wireless outdoor camera supports memory and SD card storage (not included, maximum 128G), select one of them for recording and playback.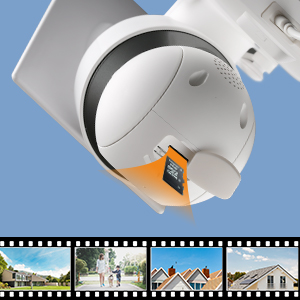 Supports SD Card and Video Playback
The outdoor camera supports a maximum of 128 GB micro SD card. When the SD card is full, the new recording will overwrite the old recording. You can also play your videos from the app and SD card.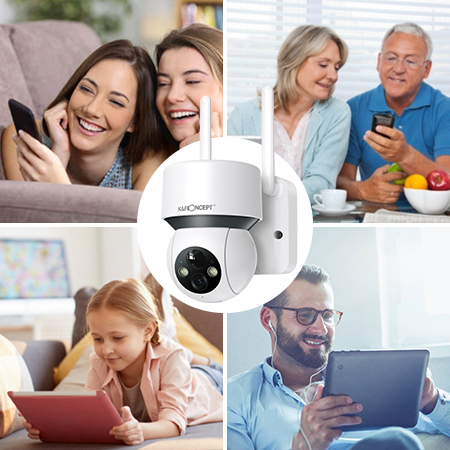 Get remote access anytime, anywhere
Use the free APP to view, playback and download manually recorded videos at any time. You can manage multiple cameras through the same application to easily share with others.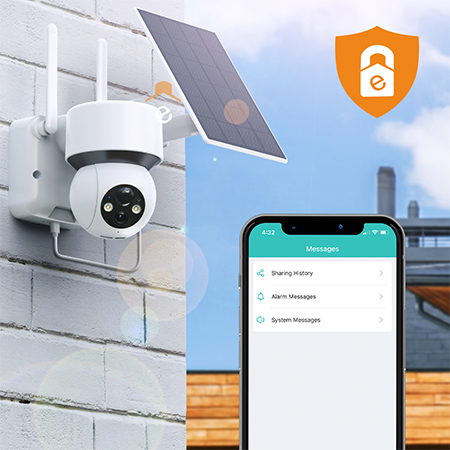 Data Security
If you need to save data for a longer period of time, you can also subscribe to a securely encrypted cloud service and enjoy a 7-day free storage discount.
| | |
| --- | --- |
| Product number | DQ201 |
| Product color | White |
| Waterproof performance | Support IP66 |
| Audible alarm | support |
| Two-way conversation | support |
| Resolution | 1920*1080 |
| Image Sensor | 1/2.9"CMOS,2MP(GC2063) |
| Infrared night vision | support |
| Night vision distance | 10M |
| Video encoding | H.264 |
| Intercom | Built-in microphone, speaker |
| store | Support SD card up to 128GB (not included), cloud storage |
| WIFI | 802.11 b/g/n |
| Battery | 14400mAh / 3.7V |
| Product Size | 12.5*11.7*8.6cm |
| Package dimensions | 21.6*14.8*12.3cm |
| product weight | 619g |
| Package weight | 1200g |
| Package Contents | Camera*1, multi-language manual*1, installation kit*1, solar panel*1 |
I think I found the ultimate security camera
I think I found the ultimate security camera. Bought this camera after a friend of mine recommended this brand. He is a photographer and used some of their products in the past and seemed really happy with them. Also, after a few hours of research, this camera seemed the only one to have all the features I was looking for, so thought I should give it a try.
Just like on the specs, you get everything they claim. The camera has a built in battery with a high capacity so you shouldn't run out of power, no matter what. This is also guaranteed by the solar panel which you get together. Both of them are waterproof and suitable for outdoors, which is amazing.

When it comes to storage, you have a micro SD slot which supports up to 128GB or if you wish you can store your footage over their cloud service. Obviously you would have to pay a monthly fee.

But, what I like the most about it is the pan/tilt/zoom feature which allows you to remotely control from within the mobile app, a very large area. The footage is on 1080p so it's very clear, even on night vision. Another great feature is the PIR sensor which is optimised to reliably detect people and large pets, and you can also modify its sensitivity from within the app. The night vision is both black&white and colour thanks to the flood lights installed in the front of the camera.

The connectivity is through your wifi so if you are planning on buying more than one camera, when you install them, you need to make sure they are within your wifi range and they have a strong signal, otherwise they won't work properly. Or you can buy a wifi extender.

The app that controls the device is very user friendly, so easy to install for people that are less tech savvy. And you can basically control everything from within it. You can share the device with other people, you can check the battery charging level and modify the power saving settings. Modify the motion detection sensitivity. You can take screen shots or record videos whenever you want. You can even set time periods for when you want the camera to detect motion and record videos. So basically, everything you can think of is within that app.

The only downside I could find is that it is a bit pricy. I've used a few RING cameras in the past and they were really good and slightly cheaper. But none of them had all these features. So if you are looking for a security camera that has everything, and willing to pay the price for it, than this is probably the best choice.
28/10/2021
Tut was sie soll, gute Überwachungskamera mit Solar
Ich habe diese Kamera zum Überwachen meiner Garagenauffahrt gekauft, und vor Allem mit der flexiblen Rotation ist sie für diesen Bereich gut geeignet. Die Bildqualität ist sehr gut, die Nachtsichtfunktion tut auch, was sie soll. Man kann in beiden Modis die Personen erkennen.
Das Flutlicht nutze ich persönlich nicht aktiv, es funktioniert jedoch auch, bei Erkennung einer Person.
Und jetzt das Beste: Durch das Solar Panel bleibt die Kamera immer ausreichend mit Strom versorgt, und in den 5 Tagen wo ich sie genutzt habe, war das Akku nie unter 80% - so sollte es auch an dunklen Wintertagen kein Problem darstellen. Was nur wichtig zu wissen ist, die Kamera braucht eine aktive W-Lan Verbindung um zu funktionieren, weshalb man das Wlan über Nacht dann nicht ausschalten darf.

Ein paar kleine Mankos, die man aber in kauf nimmt bei solch einer guten Kamera ist das Fehlen einer RTSP Adresse, kein USB C, und die Kamera kann leider auch keine Personen verfolgen und tracken, wenn Sie erkannt wurde. Vielleicht kommt etwas über ein App-Update hinzu.

Alles in allem eine empfehlenswerte Kamera
26/10/2021
Exceeded my Expectations
After unboxing all the items, I was pleasantly surprised by the quality of this camera, very well packaged it was too. The quick start guide was easy to navigate and the whole process took 5 minutes, I first noticed when trying to pair the camera up with my Wifi, was it only operates with 2.4Ghz and mine was a 5G network but also I could easily drop down to the 2.4Ghz on my system. This does not come with a micro SD card and the maximum it accepts is 128G. The card can only be inserted one way and I can see people having difficulty with it as there is no picture in the quick start guide to show you. The app you download basically is your controller, I love the PTZ mode, it gives you the ability to move the camera around on your phone app, and also the motion detection feature can be set for the days you are not home which works perfectly for my situation. The picture quality blew me away and the movement on live mode was super smooth. The solar panel has a decent length of cable attached which allowed me to position it facing south with me living in the northern hemisphere, and the camera is recommended not to face direct sunlight which suited my positioning perfectly. I would strongly advise you to position your camera without fixing in place, you can then go indoors and see the strength of the wifi, mine was indicated at 80% which was very good. Overall this camera ticks all the boxes for me, it has so many features which will have their uses at a later date, for the price this security camera is very competitive with other brands and I wouldn't hesitate to recommend it. Finally I would like to have a time lapse feature incorporated into one of these, it would record some awesome sunrise/sunset footage, just an idea K&F Concept.
09/11/2021
Awesome Solar Security Camera!
I've been testing this camera for a few days now and all I can say is I'm extremely impressed! The solar charger keeps the battery 100% charged all the time, the motion sensor sends alerts straight to my phone, it has crystal clear HD video day and night. The flood lights come on when the camera detects motion. It works great with the CloudEdge app. I can use an SD card with it so I don't have to pay a monthly charge for cloud storage (I could if I wanted to though). It even has a built in microphone so I can talk to whoever's near the camera and they can talk back. All in all I couldn't be happier with this purchase. I'll be buying a few more now that I know the solar charger actually works and my uncle said he's getting some too! lol
20/10/2021
perfect security camera
Loving it for the price I paid for. It has various helpful features. Sensors and motion work perfectly. The best part is night vision. The quality is great even at night. The User experience and interface is so easy to understand.
02/11/2021
KF50.0002 K&F Concet Solar Powered Wireless Outdoor Home Security Camera 1080P
Solar Powered Wireless Outdoor Home Security Camera
Surveillance Cameras
Video Resolution
1080P
Power Supply
Solar / Built-in Battery
Built-in Battery Capacity
14400mAh
Storage
SD memory card (up to 128G/cloud storage)
Pan Tilt
Horizontal 355°/Vertical 95°
Motion Detection
PIR
Motion Detection Range
8m/26.2ft
Waterproof IP Rating
IP66
Night Vision
Color Night Vision (optional)
Night Vision Range
10m/32.8ft
Audio & Light Alert
Audio & Light Alert
Two-way Talk
√
WiFi Connectivity
2.4GHz wifi