94"/240cm Aluminum Lightweight Travel Tripod Monopod with 360° Ball Head - T254A8 + BH-28L(SA254T1)
&FREE Shipping to Australia
Kentfaith 994"/240cm Aluminum Lightweight Travel Tripod Monopod - K234A6+BH-28L(SA254T1) features 360° Ball Head & Quick Release Plate for DSLR SLR. Stable & easy to set up.

KF09.086

SKU:

KF09.086

185.99

https://au.kentfaith.com/KF09.086_94"-240cm-aluminum-lightweight-travel-tripod-monopod-with-360°-ball-head---t254a8-bh-28lsa254t1
Features
* 【Transverse Center Column】Central column moves from 0 to 180 degrees, can be rotated 360°horizontally, to realize panorama shooting.
* 【Strong Stability】25mm large diameter aluminum alloy tube,the load capacity can reach 22.04lbs (10kg), provide security and stability support for your dslr camera.
* 【Detachable Monopod】It can be turned into a lightweight monopod or walking stick alone to make your photography more diverse.
* 【360° PANORAMA】The 28mm large KF-28 metal ball head provide 10kg load capacity, it can be rotated 360 degrees, helping to expand dslr camera activity range when panoramic shooting.
* 【EASY SET UP】4 sections tube leg and the max diameter is 25mm; Spiral type locking knob allows you to adjust the working height in seconds; The height without column reaches 67.7'' and the height with 2 sections center column is 93.8'',making standing shooting easier.
Shipping
&FREE Shipping to Australia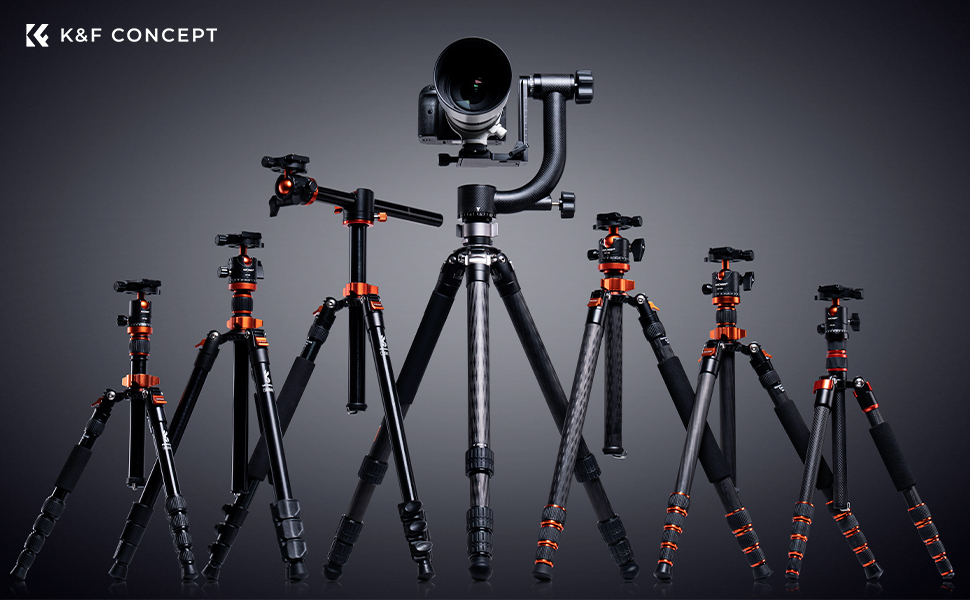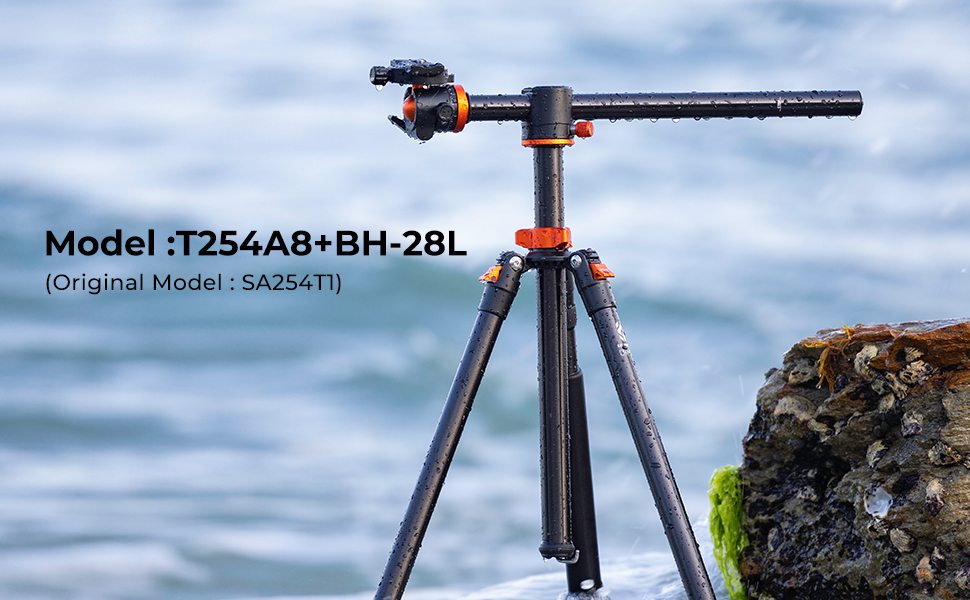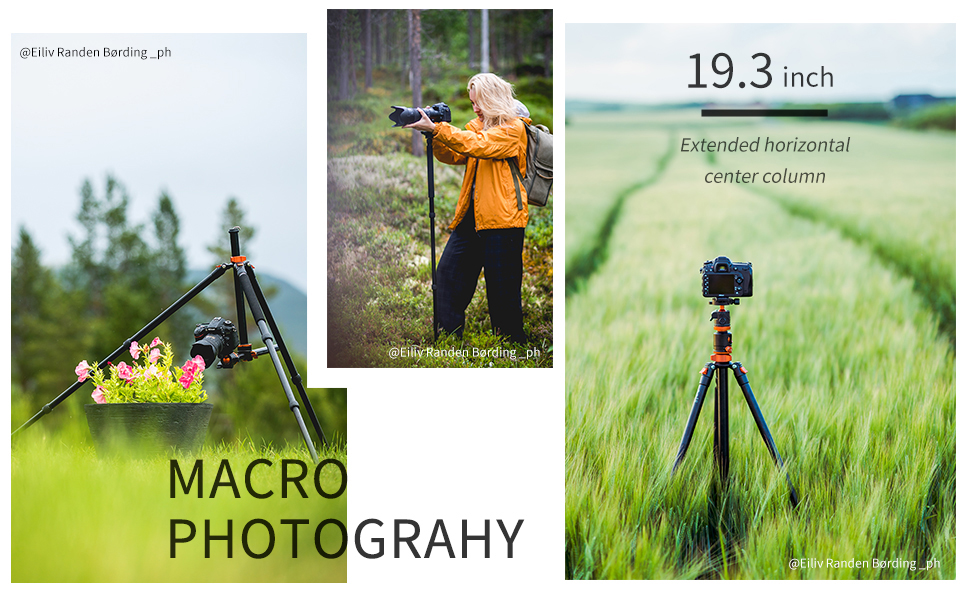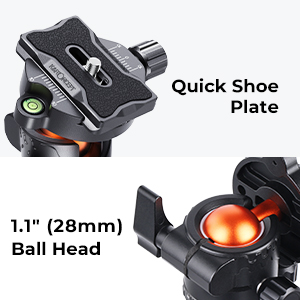 KF-28 Metal ball head
The low center of gravity ball head has strong strong locking force and can be rotated 360 degrees to improve camera activity range.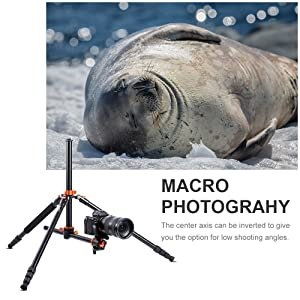 Lowest Angle Shooting
Lowest angle shooting, macro shooting, and special photography can be achieved through inverted central axis.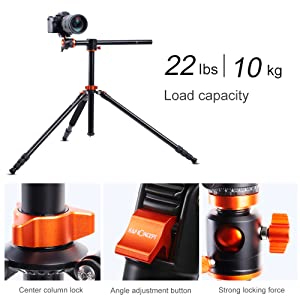 Transverse center column
The center column can be used vertically or horizontally. Horizontal 360 ° rotation, so that photographers can realize panorama shooting.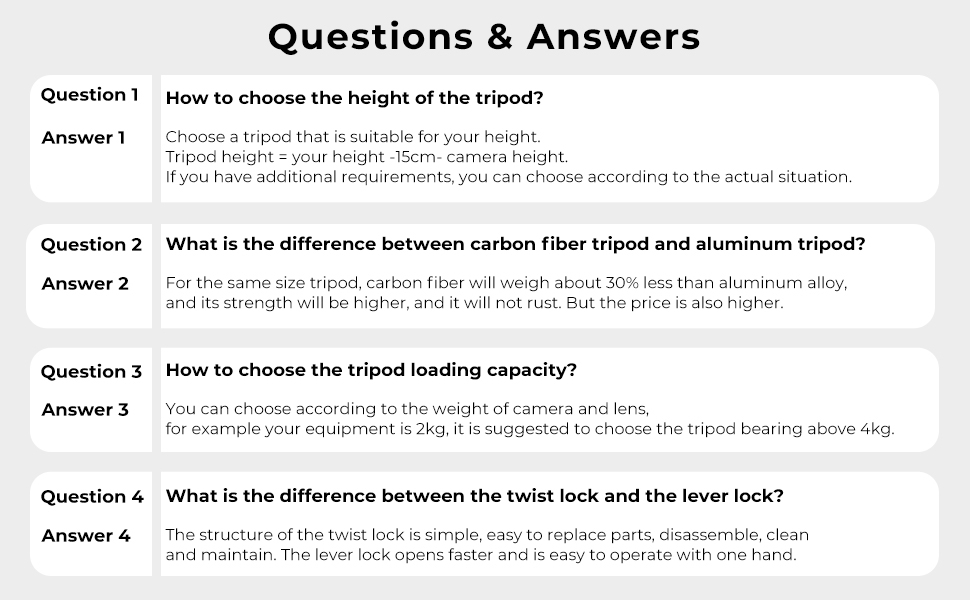 | | | | | |
| --- | --- | --- | --- | --- |
| | | | | |
| | | | | |
| | | | | |
| Rating | 62 reviews. | 75 reviews. | 111 reviews. | 464 reviews. |
| Price | A$185.99 | A$152.99 | A$149.68 | A$169.99 |
| Model | KF09.086 | KF09.079V1 | KF09.085 | KF09.096 |
| Load Capacity | 10kg/22.05lbs | 10kg/22.05lbs | 10kg/22.05lbs | 10kg/22.05lbs |
| Maximum Working Height | 2385mm/93.90" | 1830mm/72.05" | 1700mm/67" | 1920mm/75.59" |
| Max Height without Center Column | 1720mm/67.72" | 1390mm/54.72" | 1360mm/53.5" | 1425mm/56.10" |
| Minimum Working Height | 690mm/27.17" | 600mm/23.62" | 560mm/22" | 615mm/24.21" |
| Folded Length | 570mm/22.44" | 490mm/19.29" | 430mm/17" | 500mm/19.69" |
| Weight | 2000g/4.41lbs | 1835g/4.05lbs | 1690g/3.7lbs | 1845g/4.07lbs |
| Materials | Magnesium aluminum alloy | Magnesium aluminum alloy | Magnesium aluminum alloy | Magnalium Alloy |
| Ball Head | Ball Head | Ball Head | Ball Head | Ball Head |
| Color | Orange/Black | Red/Black | Orange/Black | Orange/Black |
| Bubble Level | | | | |
| Leg Lock Type | Twist Lock | Flip Lock | Twist Lock | Spiral Type Lock |
| Leg Positions | 3 | | 3 | |
| Independent Leg Spread | | | | |
| Leg Sections | 4 | 4 | 5 | 4 |
| Leg Diameter | 16-25mm/0.63-0.98" | 16-25mm/0.63-0.98" | 13-25mm/0.51-0.98" | 16-25mm/0.63-0.98" |
| Feet Features | Can be reversed 180° and folded | | Can be reversed 180° and folded | Can be reversed 180° and folded |
| Center Column Features | | Transverse Center Column, Center Column Inversion | | |
| Center Column Sections | | 2 | | Tranverse Center Column |
Great
Running your hand along it, very smooth. The look, very shiny and professional. The strength, clearly above normal. The mobility, really high.It comes with it's own case, which I actually had no use for. I feel like a lot of companies put a lot in things that just pointlessly cost more money, and should instead put everything into the product, not the accessories.Overall though, this is a fantastic product. I really enjoy it.
13/06/2020
Has A Lot Of Versatility
This is the most adaptable tripod I've ever seen.First off, It's extremely tall. I'm 6'3", and when it's fully deployed I can't reach the camera button to take a picture. If I wanted to get a crane shot with whatever I had on hand, this is what I would use. I might actually get some use out of the remote I purchased with my camera years ago.The monopod option feels a bit gimmicky, but if I had just enough room to take one (pod?) with me and felt like I might need a tripod, or a monopod, this is really the only thing I've ever seen that can be both.It has a 90 degree joint so I can get those top down product shots, and it even comes with a ball mount so I don't have to attach my own head. Speaking of the ball mount, it has a great smooth motion, so if I wanted to (and you have steady enough hands) I could use it as a steady axis for panning and tilting motion shots.On top of all that, the legs splay way out, so not only can I get extremely high shots, I can use this as a very low tripod that holds the camera inches away from the ground. With the 90 degree elbow arm, I can even hold the camera out to the side, and swing it upside down with the ball mount holding it at nearly ground level.The legs deploy fairly well. I've used legs with smoother action, but they're not bad.It's light and with the bag it's easy to carry around.The only thing left to talk about is the sturdiness. I'd call it mostly sturdy. I'd trust it to hold my camera, but on a windy day there will be motion in the shot. I can feel a bit of wiggle, and there's more with it fully extended. If I was using it for long exposure photography, I'd want to throw some sand bags on the hook.Overall a great tripod for anyone looking for an all-in-1 solution.Highly recommended.
14/06/2020
Its a 3 star quality, but the features bump it up to 4
I've got a few other lightweight/portable tripods for this price range, and they've all exceeded my expectations - everything felt extremely solid. On the other hand, this tripod feels like it should cost half the price that it does.In one solid piece as you pull it out of the bag, it looks and feels sturdy, but when you start to assemble it, its easy to notice all the poor tolerances. It's not every part, maybe only 30% of the entire tripod feels janky, but thats more than I'd expect at this price. The clips that hold the legs in position move almost an entire inch without any tension on them, the knobs that let the legs fall out and lock feel like you can easily pop them off, and when extended outwards, the tripod head doesn't really feel like it locks in place unless you torque the main knob down.At the end of the day, it works, and the flaws I mentioned haven't really interfered with anything other than my confidence in the unit, so I don't think I should take off more than one star, but at the same time, its definitely not a 5 star tripod at this price in my opinion.
24/06/2020
Great tripod.
Large tripod, multi-angle central column, quick leg locks, robust and with a high-quality carrying case.
11/05/2021
Super heavy-duty tripod with detachable lightweight monopod
I didn't realize that tripods could be so expensive, but I guess it's one of those items that speak true of you get what you pay for! A cheap camera tripod that we just purchased a couple of years ago recently broke, so we decided to invest in a heavy-duty professional tripod. One that would be durable enough to last us for years to come and be able to hold our camcorder and also be compatible with our mirrorless camera and a DSLR camera in case we decide to get one in the future. We wanted to get a reliable tripod in time to capture footage to see the Neowise Comet which only orbits the sun every 7000 years, so it's a once in a lifetime experience. Unfortunately it was too hazy and there were too many clouds the two times that we drove out to the mountains, but this tripod held up like a champ in the 50 degree Fahrenheit cold weather and windy conditions. The instructions say not to use this in temperatures below minus 40 degrees or higher than 100 degrees.The tripod is made of sturdy aluminum alloy tubes. The KF-28 metal ball head provides a maximum load capacity of 22 pounds and can be rotated 360 degrees which can easily hold a heavy DSLR camera and makes for excellent panoramic shooting. Make sure not to exceed the maximum specified load. This tripod is easy to set up simply by flipping the legs the opposite way and using the clamps to secure in place. There are four (4) leg sections and the knob allows you to adjust the height. The height with the two (2) center sections column can be extended to 93.8 inches which is pretty tall and makes it good for taking large group photos from an overview vantage point. The height without the column reaches 67.7 inches. There is also a detachable lightweight monopod that can extend to 98.4 inches for your different photography needs. For panoramic shots, the central column moves from 0 to 180 degrees and can be rotated 360 degrees horizontally.This also comes with a nice, durable carrying case to keep your tripod protected and makes it portable for travel. The case also has a strap that you can use to carry on your shoulder for better convenience. My only gripe is the weight. Since this is so heavy duty, this weighs a little over six (6) pounds which is heavier than most tripods, but this is definitely the nicest tripod we've owned and you can tell from the high quality and detail. When my husband uses it to take footage with our camcorder, it is very stable and I'm sure this will last us for many years!
11/08/2020
Very sturdy and well made tripod
This tripod is really well designed. It has a lot of versatility and it's relatively lightweight but it doesn't feel cheap or flimsy at all. It can extend higher than any other tripod I own which wins big points with me and its easy to set up and fold back up, it only takes seconds to set up and put away once you get the hang of it. All of the joints clamp down nice and tight and stay that way until you loosen them. I particularly like the fact that you can set it up so the bar sits parallel to the ground, it's perfect for shooting panorama.This tripod looks really cool too. It also comes with a padded carrying bag that zips closed and has handles so it's easy to carry around and it doesn't get dinged up.
10/07/2020
Compact, many great features, versatile, well made.
I've been into photography for about 35 years, the last 5 of which in a semi-professional capacity. I've gone through a LOT of tripods of various levels, but never one to spend $500+ on a tripod. Photographers today have a lot more economical options, and this one is at or near the top of that pyramid.Wow, where to start... I read some of the other positive reviews and it seems like they're pretty much covered it, so I'll just throw in my agreement: you'd have to spend a LOT more to get a better tripod than this.It's at an awkward position in the tripod range - pricey for the beginner, and too inexpensive for the seasoned pro who wants only the best. If this is perhaps more than you wanted to spend, but CAN afford this - don't go through the pain of constantly moving up every few years like I did, jump ahead and buy this one. When I was starting out, to get a tripod anywhere near this quality, you'd have to spend MANY hundreds of dollars (in 1990's money).The quality and materials are all Good/Excellent. I recently reviewed a similar tripod that was a bit cheaper, but not nearly as flexible as this one and it had a few cheaper-feeling pieces. I felt it deserved 5 stars for value, so this one definitely qualifies for a 5.First off - this is the TALLEST tripod I have ever seen!!! In addition to having one more leg segment than most, the vertical extension tube in the center has TWO telescoping segments as well! (With two ball-head joints) This can stretch higher than I could even reach. Crazy!And, as you can see in the description, the center tube can be made to swivel and tilt. I tried it in the (almost) worst-case scenario - my heavy Canon with a mid-size lens in the fully-extended horizontal position with the camera aimed in a "normal" horizontal position. Admittedly, it struggled to hold this position, but it did. It might not have been able to do it with one of my heavy telephoto (100-400) but that would be an odd scenario anyway.) WIth the tube only halfway extended, it should be able to hold just about anything you can throw at it.The ball head works really well. Smooth and no free play, and no matter what angle you have your camera at when you lock it down, it will stay without any drift. (Okay, maybe a millimeter or 2 of drift, but that's probably just from releasing the upward pressure your own hand was exerting on the whole rig - not the ball head itself that's moving.)You can flip the center stack so that you can mount your camera on the bottom for a low perspective. I did not actually test this feature yet so I'm not sure how difficult it is to flip the mechanism. Suffice to say, this tripod can probably do any oddball position that you've ever seen any tripod do.All the legs and latches that matter are aluminum. The plastic and rubberized parts are well above the average.Being aluminum, it's surprisingly light for its size. That said, it's not hard to get a quality, lighter tripod, even in this price range, but it will be a smaller tripod. When you consider the size and flexibility of this one, it seems pretty light.Most photographers have multiple tripods, and this one makes a good case for that as well. This is a wonderful "does everything" tripod, but it might be a bit bulky and overkill for long-distance hiking. (However, one of the legs can be detached and combined with parts from the center stack to be used as a monopod - so with some effort, this could truly be an all-purpose tool.) Personally, I would have a quality, low-frills, light tripod for travel or hiking, and this one for all staged, commercial, or studio work. It's a great studio tripod - the flexibility lends itself well to product photography.OK, I feel like I'm rambling without adding a whole lot of new info. EXCELLENT product, excellent quality especially for the price, can go ridiculously tall, lightweight for the size. No hesitation in recommending it.Hope this helps!
18/06/2020
Perfect for my needs
I am sincerely blown away by this tripod. Fully extended it can reach up to about 8-feet in height. It's made well, super configurable, can be huge or compact. I literally have about a dozen other tripods and nothing comes close to the functionality that this one has. I keep showing how cool it is to everyone I can.
24/06/2020
Awesome works great
The company itself is awesome my first one got lost in shipping. And they had no problem sending me a new one. An so glad they did I love this thing!!!
15/08/2021
These images belong to K&F Concept end users.
K&F SA254T1 Tripod for Canon Nikon Camera Professional DSLR Photography 93Inch Aluminium
How to assemble tripod leg
How to assemble center column
Tripod General
Load Capacity
10kg/22.05lbs
Maximum Working Height
2385mm/93.90"
Max Height without Center Column
1720mm/67.72"
Minimum Working Height
690mm/27.17"
Folded Length
570mm/22.44"
Weight
2000g/4.41lbs
Materials
Magnesium aluminum alloy
Ball Head
Ball Head
Color
Orange/Black
Bubble Level
Tripod Legs
Leg Lock Type
Twist Lock
Leg Positions
3
Independent Leg Spread
Leg Sections
4
Leg Diameter
16-25mm/0.63-0.98"
Feet Features
Can be reversed 180° and folded
Tripod Center Column
Center Column Features
Center Column Sections