77mm Natural Night Filter
&FREE Shipping to Australia
Buy K&F Concept 77mm Natural Night Sky & Star Filter online, free worldwide shipping and 30-day money-back guarantee.

KF01.1119

SKU:

KF01.1119

42.99

https://au.kentfaith.com/KF01.1119_77mm-natural-night-filter
Features
* Ultra nano Pro Clear Night 77mm filter for Night Sky / Star. Made with high quality Japan Optics crystal.
* Multi-resistant coating technology that significantly reduces lens flare and ghosting.
* Block light beams in the lamp range.
* Ultra slim edge design prevents wide angle vignetting.
* Compatible with all camera lenses that require a thread diameter of 82mm (Ø). It has a Fine Edge Profile to avoid vignetting and double threading that allows filter stacking.
Shipping
&FREE Shipping to Australia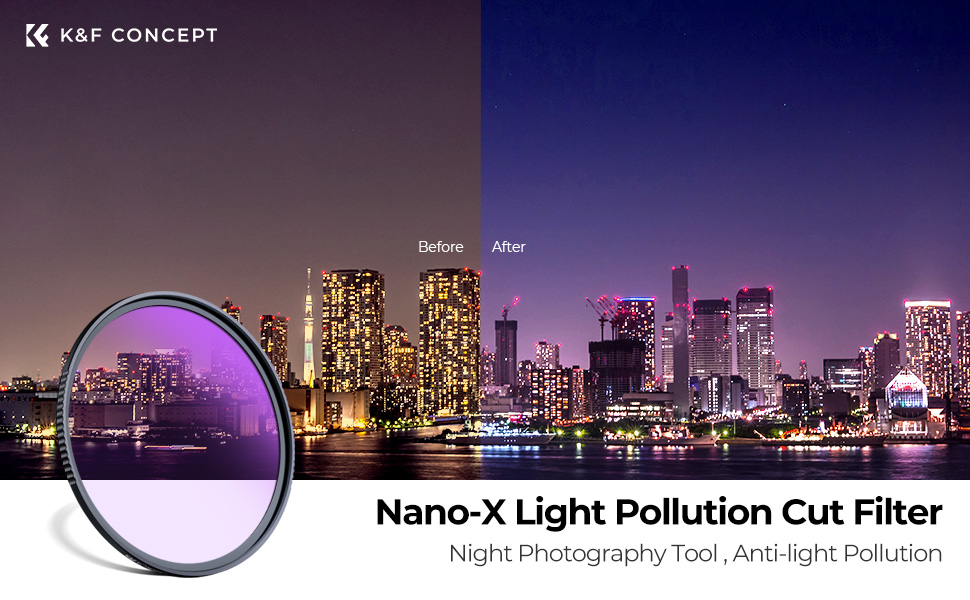 Clear-Night Filter has always been a challenge for photographers who like to photograph cities at night. This unpleasant haze makes capturing stars and celestial objects a lot more challenging. The new K&F Concept 67mm Light Pollution Filter is available for DSLRs with 67mm lens and helps to reduce the effects of light pollution. The special coating on the filter helps stop the yellow and orange wavelengths of light from entering the lens resulting in clearer photographs of the night sky. For architectural shots or long exposures in the urban environment, even delicate structures and contrasts are maintained in the subject and no longer overexposed. By means of extensive filtering of the warmer wavelengths of light, photographs are effectively 'cooled down' retaining the same detail and contrasts that you see with your eyes. As a result of this cooling effect, we recommend that photographers always use manual white balance and select a color temperature between 700K and 1500K of the reading that was taken without the filter inserted, to ensure the color authenticity of your pictures.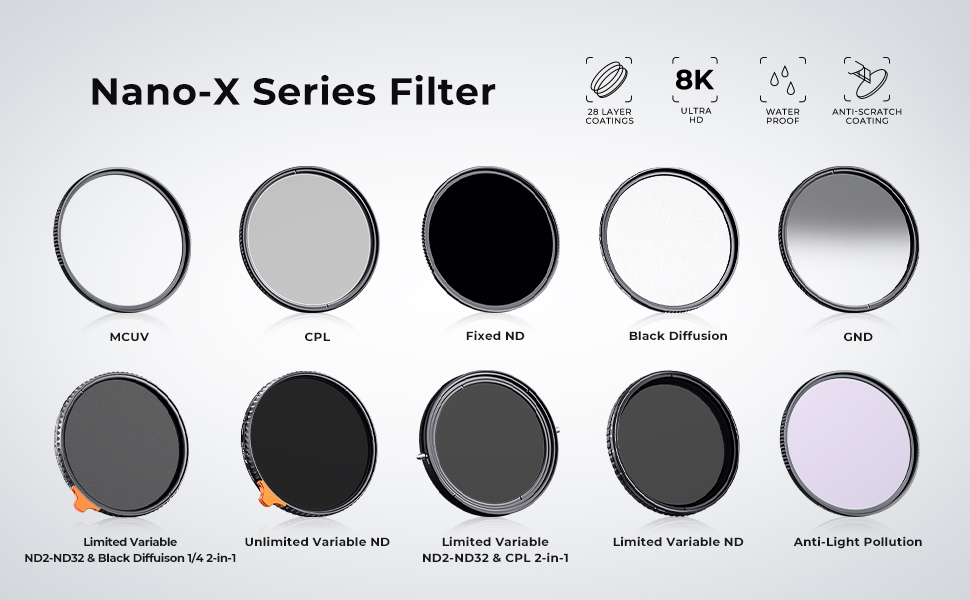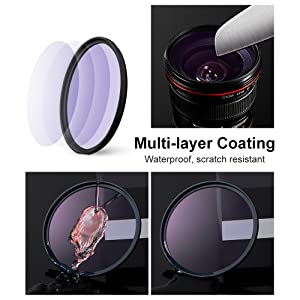 28 Multi-Layer Coatings
K&F Concept Natural Night Filters both glass sides with nanometer coatings ,bring the high-quality definition, low-reflection and no Vignetting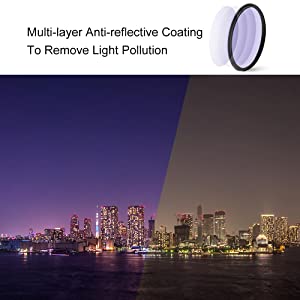 Eliminates Light Pollution Non-Destructively
Eliminating light pollution is essential to capturing beautiful Night Sky images, however, finding a location to shoot without light pollution can be incredibly difficult if not impossible depending on where you're shooting.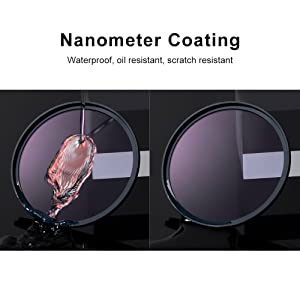 Waterproof & Scratch Resistant
The nanometer coatings on both sides, from the ground, up repel dirt, water, oil, and other elements by beading rather than absorbing and smearing. To withstand extreme wind, saltwater, dust, and other abrasive conditions and elements.

| | | | | | | |
| --- | --- | --- | --- | --- | --- | --- |
| | | | | | | |
| | | | | | | |
| | | | | | | |
| Rating | 5 reviews. | 18 reviews. | 38 reviews. | 81 reviews. | 0 reviews. | 24 reviews. |
| Price | A$42.99 | A$68.99 | A$35.99 | A$74.99 | A$106.49 | A$69.99 |
| Model | KF01.1119 | KF01.1481 | KF01.976 | KF01.1061 | KF01.1851 | KF01.1085 |
| size | 77mm | 67mm | 67mm | 67mm | | 67mm |
| Filter Material | Japanese AGC Glass | Japanese AGC Glass | Japanese AGC Glass | Japanese AGC Glass | Japanese AGC Glass | Japanese AGC Glass |
| Multi-Coating | √ | 28 | 28 | 28 | 28 | 28 |
| waterproof | √ | √ | √ | √ | √ | √ |
| scratch-resistant | √ | √ | √ | √ | √ | √ |
| HD | √ | √ | √ | √ | √ | √ |
| Transmittance | ∕ | 0.84 | 0.001 | ∕ | | ∕ |
| Antireflection | √ | √ | √ | √ | | √ |
| Pattern | √ | | √ | √ | | √ |
| Filter Thickness | 3.3mm | 0.13in/3.3mm | 3.3mm | 7.3mm | | 9.3mm |
| Shape | Circle | Circular | Circle | Circle | | Circle |
| Ring Material | Aviation aluminum alloy | Aviation aluminum alloy | Aviation aluminum alloy | Aviation aluminum alloy | | Aviation aluminum alloy |
| Screen | Nano-X series | Nano-X series | Nano-X series | Nano-X series | Nano-X series | Nano-X series |
| zoom range | Starry sky/Night scene | Video Shooting/Potrait Photography | Landscape Photography | Video Shooting/Landscape Photography | Video Shooting/Landscape Photography | Video Shooting/ Landscape Photography |
| Resolution | Block yellow wavelengths of light | Soft highlight | Light reduction effect | No X cross/Light reduction effect | 1 Second Switch/No X cross/Light reduction effect | Remove glare/No X cross/ Light reduction effect |
Perfect for astrophotography
This filter is doing its job perfectly. It catchs night light pollution so I could take clear night sky. I've tried it at Josua tree national park to capture Neowise comet, and it worked perfectly.
01/09/2020
Used once & Glass Looks Delaminated.
Was excited when I got this filter. I used it once in my backyard for some star trail photos. Cleaned and put it away in its nifty case. Went to use it again, and it looked all funky with splotches on the glass. Tried to clean it, only to realize the splotches wouldn't come off because the glass had delaminated. Super bummed!This filter had potential to be a great part of my kit. Time to look at different ones for astrophotography.
19/07/2020
Light filter
Thanks for getting this filter out to me. It looks like a real good quality build. Looking forward to putting it to use next week to shoot Saturn and Jupiter.
17/12/2020
Quality, price and functionality.
Excellent filters. Brilliant quality and allow you to take amazing night sky photos.
06/10/2019
Know what you are getting from a filter from K&N! Should have been 5 stars!
First the good part, this is a well built filter of good quality not a cheap made in China filter, it's metal with a very good grip to screw on and remove nice! Has a nice matte black ring nice! Not much of a color cast nice! 1 of the best filter cases I have ever used nice!Now the bad the Amazon listing from K&N says Nano coated BS! No coatings at ALL! That's the main issues and it's flairs because of not having no coatings just plain glass just like the ICE brand but cost much less.So if you want a good sky filter to help block out some of the sodium lamps and city lights and don't want reflections THIS IS NOT THAT FILTER! Look at the Haida 77mm Clear-Night Filter NanoPro MC Light Pollution Reduction for Sky, cost more but it is coated. I just got it today so for sure it's coated but will it stop street lights reflecting with the sky filter?Maybe I just got a filter that was not coated or did not get any Quality Control possible, and when I told K&N about this they said it was moon that caused the glare.... sorry no moon up. No Moon.
04/08/2019
These images belong to K&F Concept end users.
A
No it does not, it keeps the city lights or the light the eminates from populated areas from getting in. So you get a clearer picture of stars, I used it a few times and it works but if you live in a heavy light polluted area it may not make much difference.
A
If you can fit a 67 mm UV filter on the end of lens this should work without touching the glass. You could get the 82mm version and use a stop down adapter.
A
LPRs are designed to filter both mercury vapor and sodium spectral lines. I cannot answer via personal observation how good of a job it filters Mercury Vapor as my city phased those out long ago. Of note, I would classify this filter as a broadband filter, if you have a higher amount of light pollution you might opt for a narrowband or line filter instead to see better results.
Do You Know How Your K&F Concept Filters be Produced?
K&F Concept MCUV Protection Filter Nano K Series
Filter
size
77mm
Filter Material
Japanese AGC Glass
Multi-Coating
√
waterproof
√
scratch-resistant
√
HD
√
Transmittance
∕
Antireflection
√
Pattern
√
Filter Thickness
3.3mm
Shape
Circle
Ring Material
Aviation aluminum alloy
Microscope
Screen
Nano-X series
zoom range
Starry sky/Night scene
Resolution
Block yellow wavelengths of light
light source
/