K&F Endoscope Dual Lens Inspection Camera 1080P HD Borescope, 5.5mm Snake Camera Endoscopic with Metal Cable & 4.3'IPS Hard Screen, 8 LED Lights Plumbing Camera 32G,Gadgets for Men
&FREE Shipping to Australia
Brand:

K&F Concept

Buy K&F Concept k&f endoscope dual lens inspection camera 1080p hd borescope, 5.5mm snake camera endoscopic with metal cable & 4.3'ips hard screen, 8 led lights plumbing camera 32g,gadgets for men online, A$248.99 free shipping to Australia.

GW45.0002

SKU:

GW45.0002

248.99

https://au.kentfaith.com/GW45.0002_kf-endoscope-dual-lens-inspection-camera-1080p-hd-borescope-5.5mm-snake-camera-endoscopic-with-metal-cable-4.3'ips-hard-screen-8-led-lights-plumbing-camera-32ggadgets-for-men
Features
* 5.5mm/0.21 Inch Probe-More Professional: This 5.5mm inspection camera is the latest industrial inspection endoscope, ideal for inspection in pipes or areas not visible to the naked eye, it can easily pass through small pipes in large mechanical equipment, photography and recording video is more clear and stable, providing great convenience for after-the-fact re-examination and discussion.
* Upgraded Semi-Rigid Cable - More Durable: This snake endoscope cable has been newly upgraded, the inner layer is wrapped in special metal materials, enhances the toughness and plasticity of the rope, can more effectively through various angles of the pipe or sewer, the outermost rubber tightly wrapped inner tube, our camera and cable waterproof level reached more than IP67, rest assured that the sewer inspection work.
* 1080P Dual Lens - Wide Field of View: Our plumber inspection borescope features a new camera on the side of the front camera, six led lights on the front camera, two led lights on the side lens, and an upgraded CMOS chip that can capture clearer pictures and fluent video, even can quickly switching front and side cameras when recording. No mirror is needed, perfectly solve the problem of glare and blur in the side-view mirror of the old endoscope. letting you record down the full-view situation.
* 4.3 Inch IPS Color Screen: The focal range of this sewer inspection endoscope camera is 3-10cm/1.2-3.9 inches, the frame rate is 30fps/s, and 30 pictures are generated every 1 second, which allows you to directly watch real-time HD images on the colour IPS screen.
* Wide Applications: dual-camera endoscope comes with a 32GB memory card that supports JPG images and AVI video and is widely used with a variety of life and industrial inspections. Can be used for HVAC inspection, refrigerator inspection, sewer/drainage pipe inspection, wall structure inspection, house maintenance, car maintenance, industrial machinery inspection, drain pipe maintenance, aircraft inspection, etc. is a family and the company must have excellent inspection tools.
Shipping
&FREE Shipping to Australia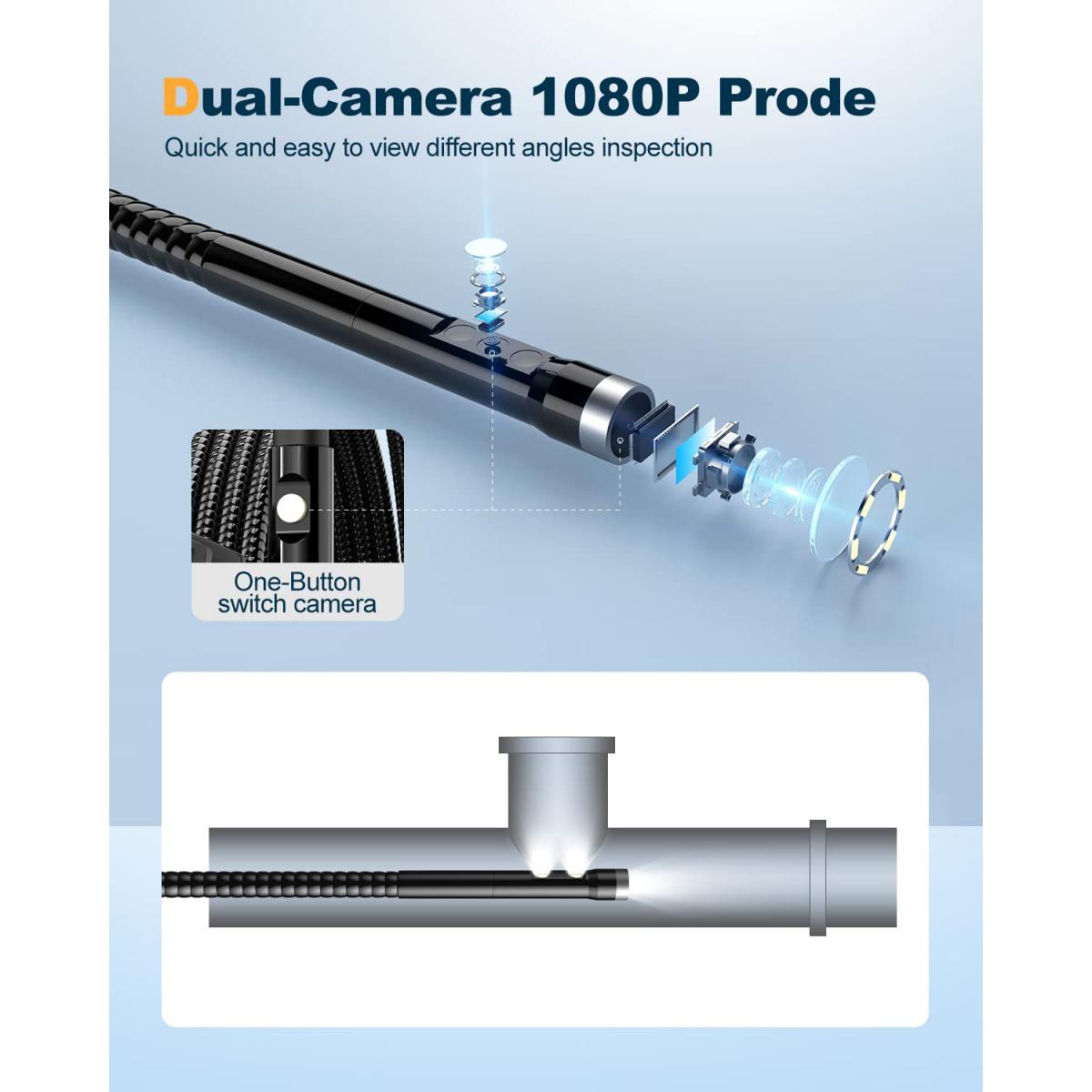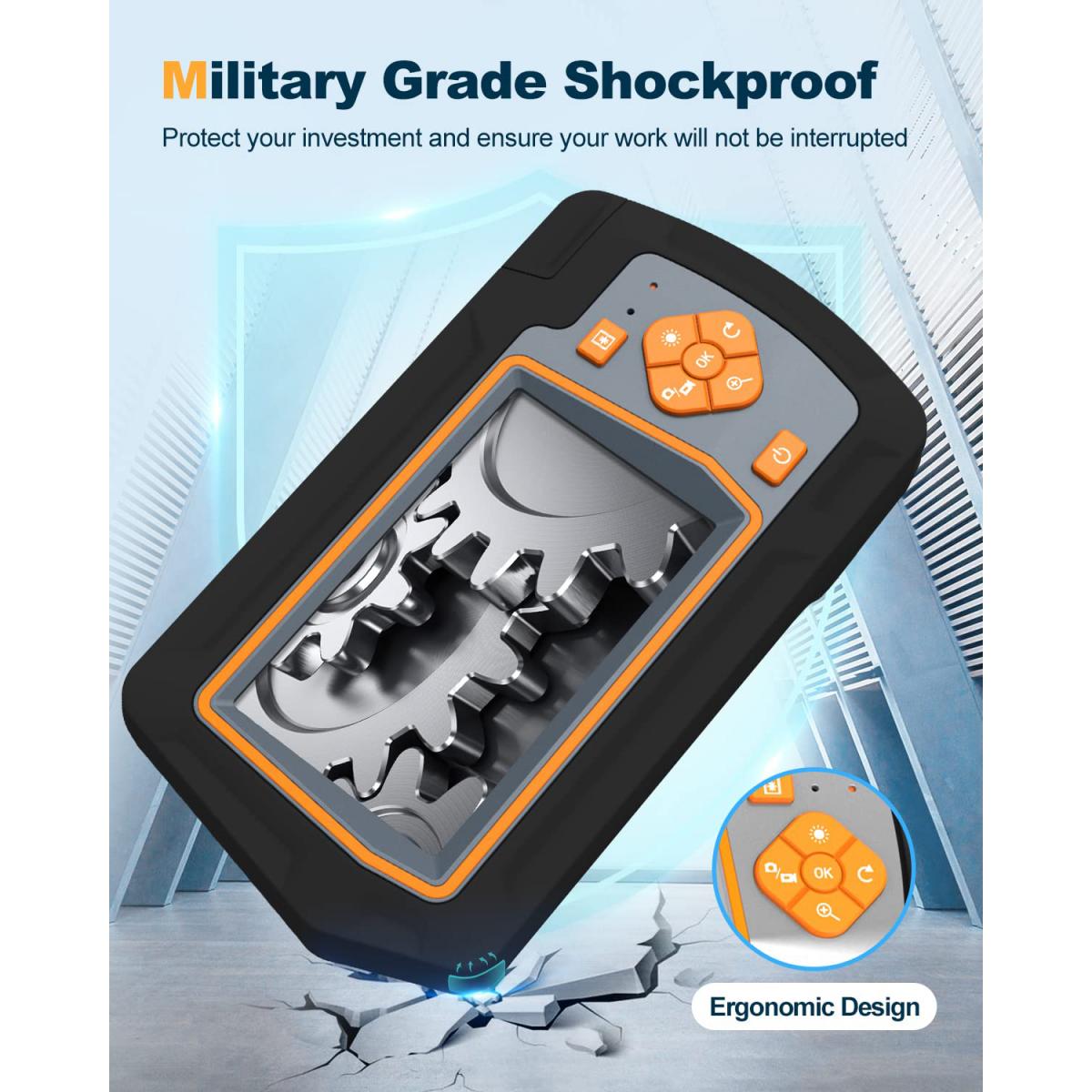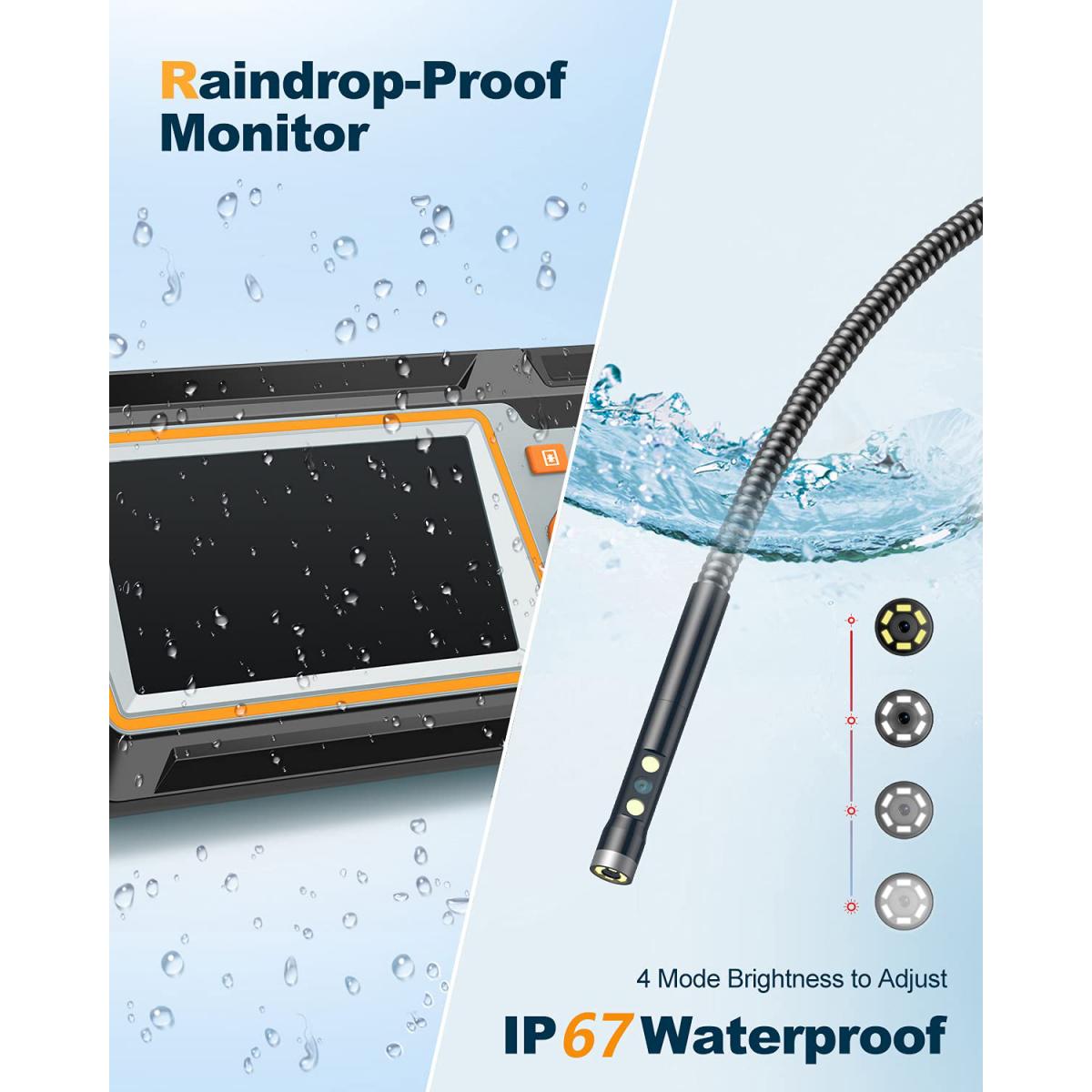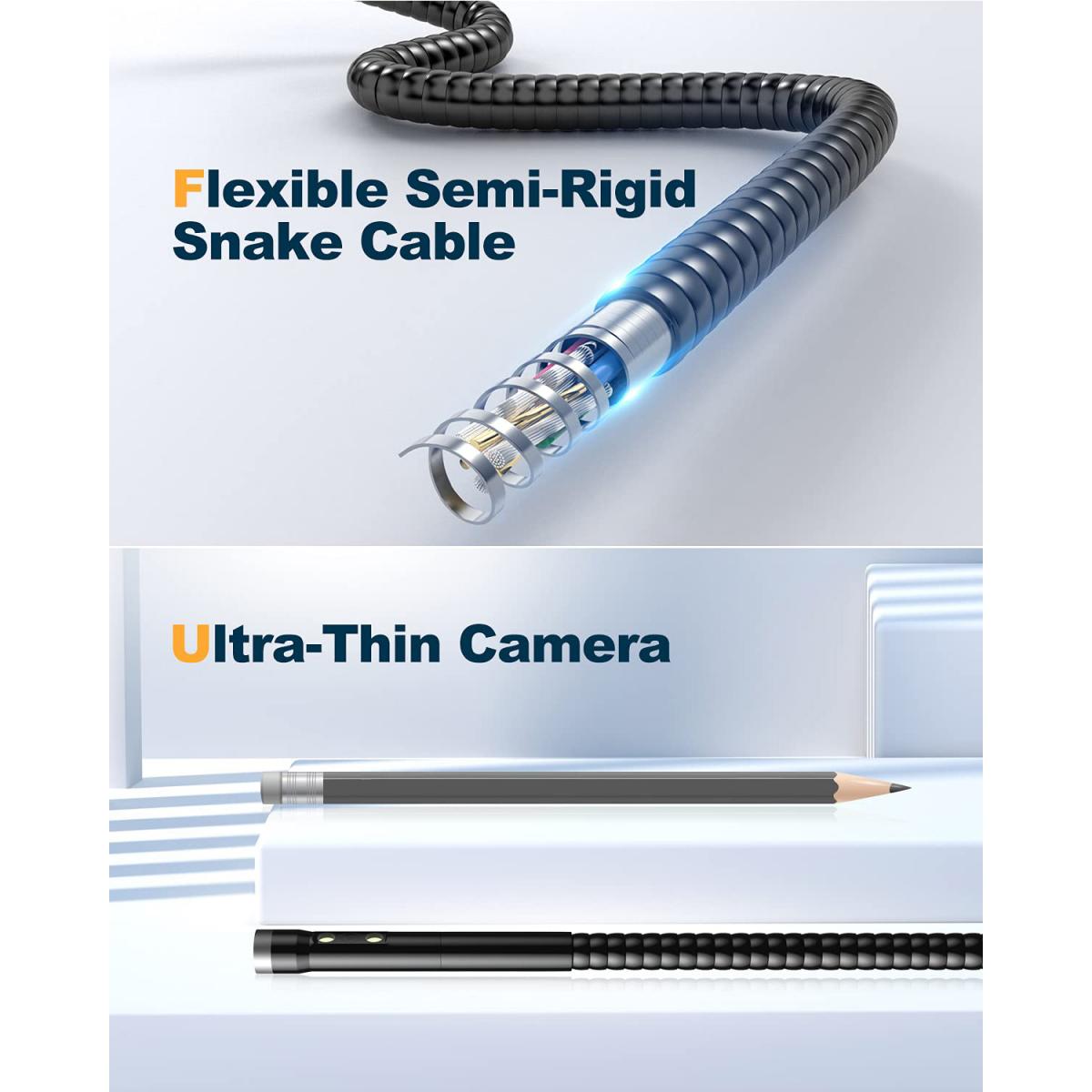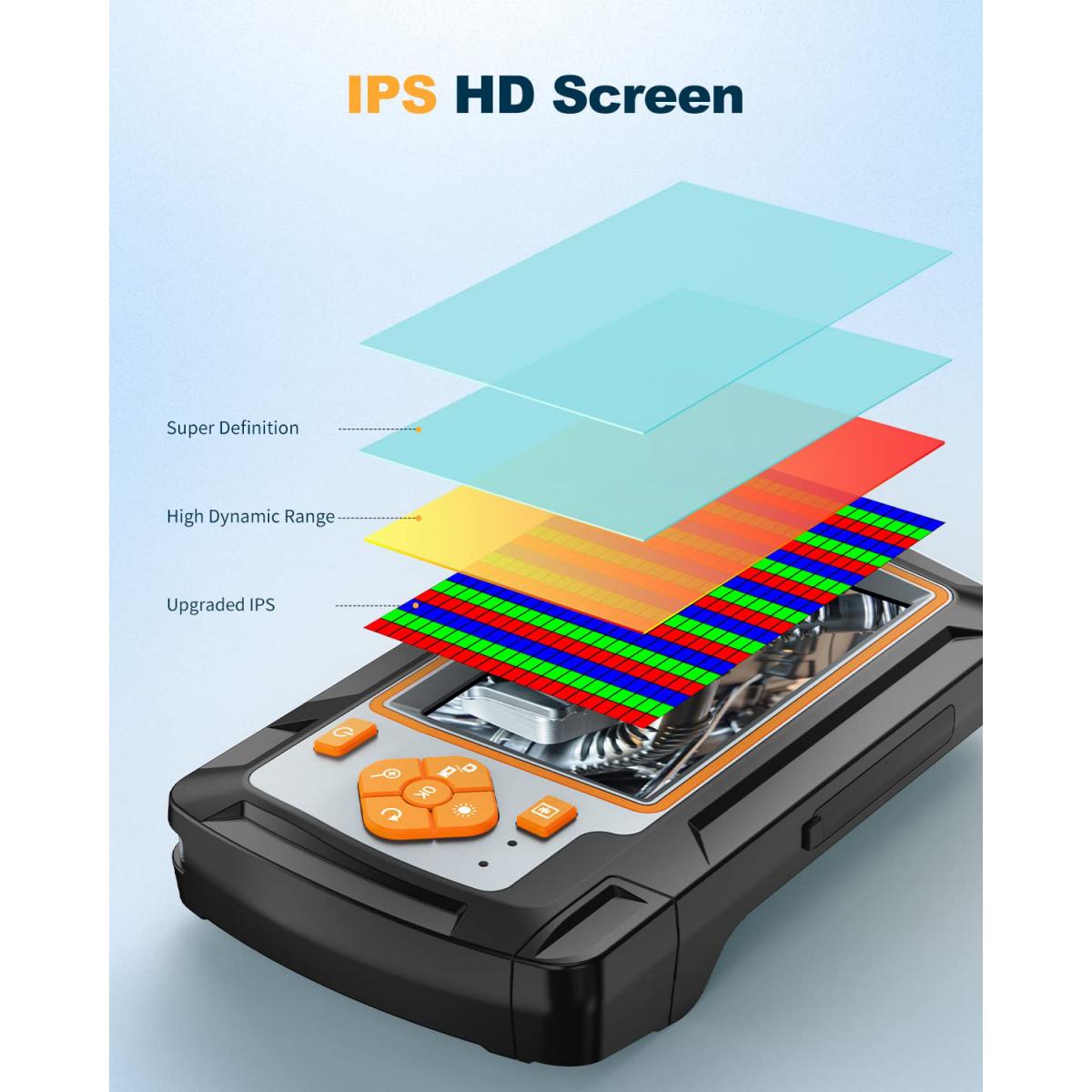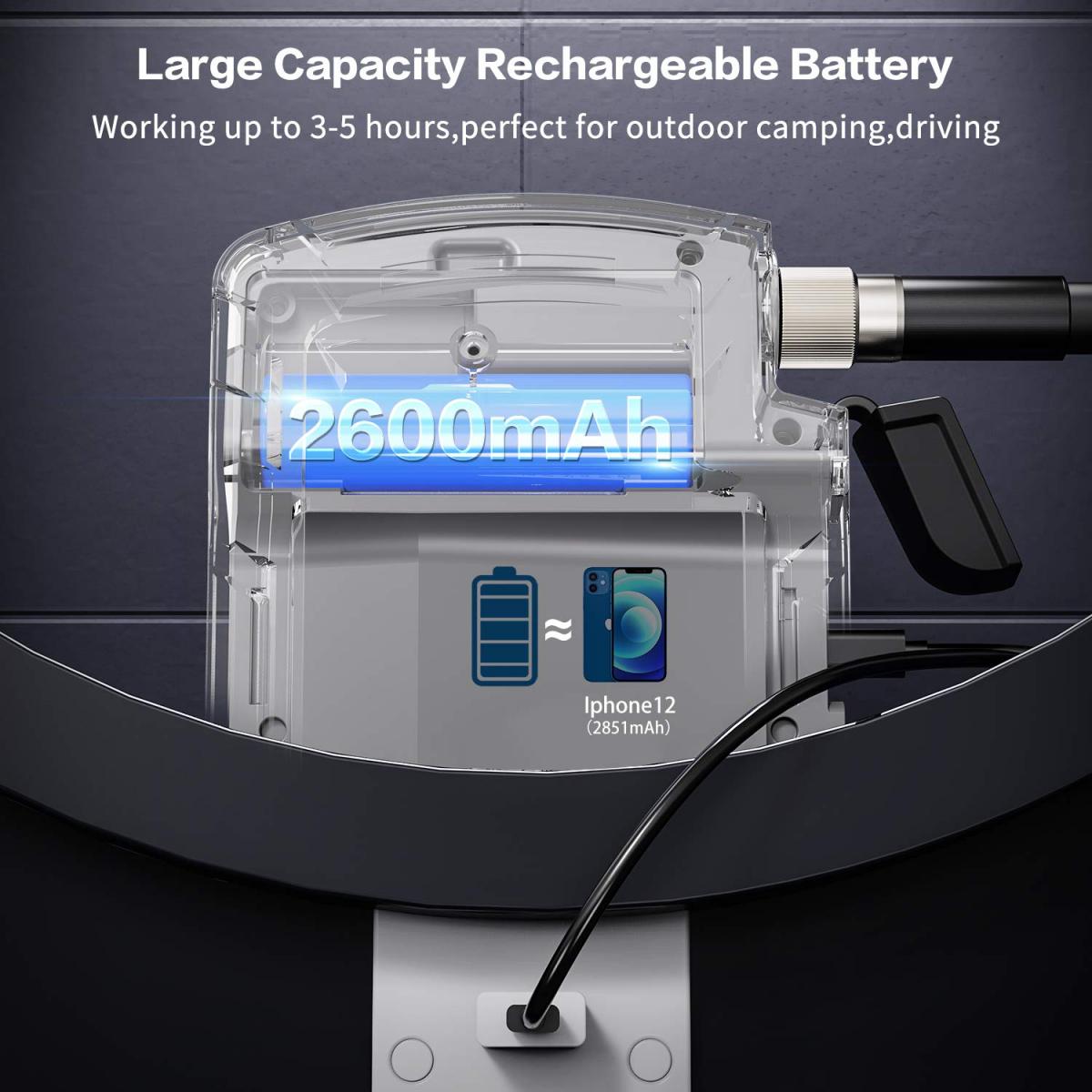 An industrial endoscope
The camera wire on this borescope camera is the perfect rigidity for multiple projects. It's stiff enough to jamb through debris and easy enough to bend by hand. Picture was clear and set up was easy. It does not include a case, but the thick cardboard box it comes in can be used for storage easily. The box is lined in bright orange foam.I would have preferred a plastic case, but not a deal breaker. Very nice camera and picture. Waterproof with built in light.
12/04/2022
There are no faqs for this product.